About Us
Situated in the heart of Olde Sligo along the banks of the Garavogue, The Embassy Rooms is a landmark building & is one of the City's best-known destinations.
Established in 1983, The Embassy Rooms now comprises of:
The Embassy Steakhouse

"Modern Cuisine Seasoned with Style"

Toffs Night-Club

A trendy Manhattan styled night club where you can dance into the early hours.

Open Wednesday to Sunday
Neat Dress Essential
I.D. required

The Belfry Pub

The "Black & White Pub of the Year" Belfry Pub offers it's award winning Bar Food menu all day until 9 p.m.

With:

Four bars over three levels
Two outdoor heated garden areas

the Belfry always has fantastic atmosphere.
All major sporting events are shown live on Plasma TV's.

Visit the website at: www.belfrypub.com

The Embassy Snooker / American Pool Rooms

"Pot the Black in Style".
Location Map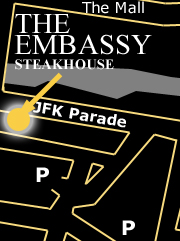 View larger location map »
Opening Hours
Tuesday - Sunday
5.00pm - 10.00pm
Sunday (Lunch)
12.30 - 2.30pm
The Belfry
Opening Hours
Daily from 10.30am
Sat/Sun from 12.30pm
Contact Us
The Embassy Steakhouse,
JFK Parade,
Sligo,
Ireland
Tel: + 353 (71) 9161250